So I went on my first trip outside of Cairo since I got here a little over a month ago. I honestly didn't know what to expect and didn't know how I would view another city, since adapting to the beautiful chaos that is Cairo. Our classes have been postponed due to student protests over tuition prices, so we decided we had to go on a road trip. A couple people and myself decided Alexandria, after someone at the dorm strongly urged against Dahab. I guess some people get kidnapped every now and then so that didn't sound as appealing.
Egypt has taught me patience I never had in America. One of the greatest tips on moving to Egypt was to just deal with the fact that Egyptians are on their own time schedule. This bring me to the train ride to Alex. All five of us piled into the taxi and headed to the train station. We went to the ticket area and saw some other people we knew buying tickets for a later train. We had a hard time finding out which train we needed to take, because Egyptians would rather give you the wrong advice than no advice at all.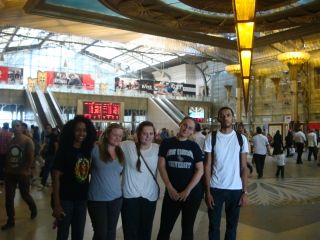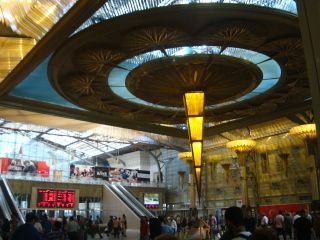 The beginning of the train ride was horrendous. When we boarded we just hopped onto any train and sat down. Next thing we know people were pointing to their seat numbers and we realized we had assigned seats. Not only did we just hop onto any train car, but we were in first class, about ten cars away from our correct car, and the train was already moving. It was one of the situations where people were ready to give up half way through the pushing, shoving, and all the stares until we got to our seats(ten train cars away). I know it may not sound that bad now, but it was pretty exhausting and humbling. I don't know about the other people I was with, but I felt like I was on display for the whole train to look at. (Note: Check out the people in the train... all guys. See my prior post about pros and cons of living in Cairo)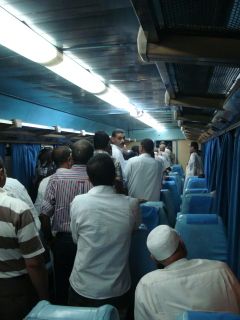 There are two kind of trains to Alex, the fast one and the slow one. We missed the fast one, so it took us about 4 hours to get here. The fast train takes about 2 hours. The tickets were only 35 EGP. so we paid about $6 for a one way ticket. There is first class and second class cars, both have air conditioning.
We arrived in Alexandria at 8pm and went right to our hostel. After I got into a little argument with some random guy on the street, I later found out that he was the manager of the hostel. He sent us to one with a better of view of the Mediterranean Sea and we mended our friendship.