Cairo is home to two pretty serious malls: the Mall of Arabia (in the 6th of October City) and City Stars (in Heliopolis). The Mall of Arabia is the largest mall in Africa, but that's for another time.
City Stars is a very impressive, confusing, and expensive mall. The mall consists of 650 stores, two movie theatres, two entertainment/amusement parks, and multiple food courts all on 7 levels of shops. Unlike malls in the states, City Stars is open for business until 1:00am.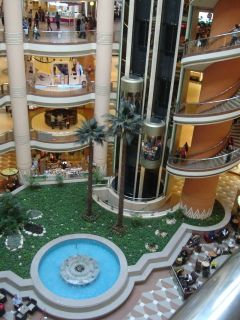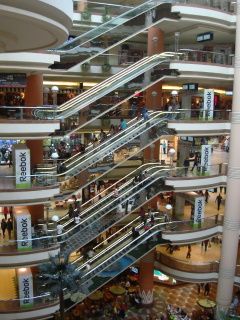 Here are some of the retailers I enjoy shopping at
(there are a lot of other European fashion stores I need to get acquainted with):
Zara
H&M
Mango
American Eagle Outfitters
Aldo Shoes
Nike (I personally think the Nike stores at this mall are ridiculously pathetic)
Nine West
Reebok
Puma
Here are some food outlets:
Pink Berry (elhamdulillah)
Ruby Tuesdays
El Chico Mexican restaurant
Chili's
Fuddruckers
Johnny Rockets
Starbucks
Prices seem to be comparable or a little more expensive than the states, but what can you expect you're in Egypt. For example, at Pinkberry frozen yogurt can cost you anywhere from $5.00-$9.00 depending on toppings and size.
A friend and I went to the 5th Panorama of the European Film at one of the theatres at City Stars for only 25 EGP, or $4.10. We saw an amazing Irish movie called El Gusto, which is about the story of an orchestra of Jewish and Muslim musicians from Algiers torn apart by war 50 years ago, and recently reunited for a Chaabi concert.
(Here's a link to the trailer if you're interested:
www.youtube.com/watch?v=-RVN1ZvHZCk
)