So I decided to venture to Khan el-Khalili again, without the tour bus of international students. Amanda, another new graduate student from Philadelphia, and I went out for lunch at an amazing pizza place on Zamalek (I'll blog about food another day). After lunch we took a taxi to the market. The first time I went to the market was at night, so I really didn't know what to expect during the day.
We got out of the taxi on the more "Egyptian" side of the market, where the streets are unpaved and there are butchers shops with dead animals and live animals waiting for slaughter. We started to walk around, when we noticed some guy "following" us. He began speaking to us in pretty good English. Long story short he was basically our tour guide through the "Egyptian" side of the market for free. Amanda and I were definitely on guard the whole time. We had been warned of these men (or any men for that matter) that want to "help" you. He ended up being completely harmless, but he definitely didn't want to let us go. We made up some story about having to meet our friends on the more "tourist" side of the market and he took us there. It was just our luck that in all of Cairo there were some other AUC students there that we recognized and left his ass.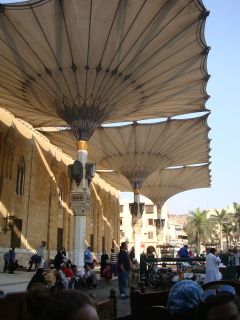 Amanda and I began our real journey around the Khan el-Khalili we wanted to see. Without the crazy smells of dead animal and chicken coups, and it was amazing. We immediatley became friends with two brothers who own a shop in the market. Their names were Ahmed and Abdul. I really can't explain how kind and funny they were. We ended up in there store three times and two times they bought us water, tea, and a hibiscus drink popular in Egypt.
Here are some pictures from around the market: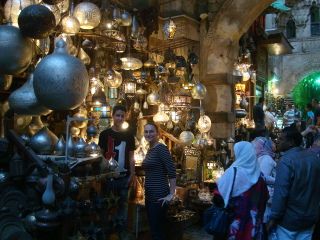 We had an amazing time. Egyptians really have an amazing sense of humor. Especially the shopkeepers in Khan el-Khalili.