Today our school set up a welcome party for the international students themed around Egyptian culture. There was amazing food, dancing, and henna.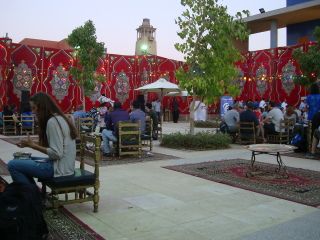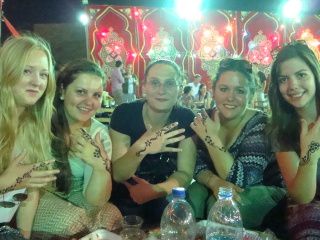 I started my survival Arabic class today. I'm so excited to use all the words I've learned. I've been talking to random Egyptians and joking around with them. They are really kind people, and have an amazing sense of humor.
Later we went to Khan el-Khalili, which is one of the major markets in the Islamic district of Cairo. It was amazing and insane(in a good way). There were so many people and all of the shop keepers yell things to get you to buy overpriced tourist goods. We heard things like "spend all your money here" and "we will help you go broke". It was actually really funny.
There were so many people!!! I loved it. Some of the people in our group were a little shocked at what they saw or the extreme poverty that this country has. I really love the crowds. I love how different we all are. Here are some pictures of the square: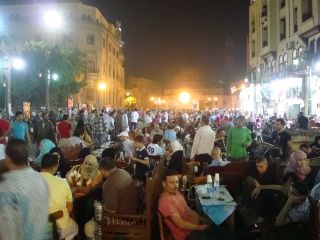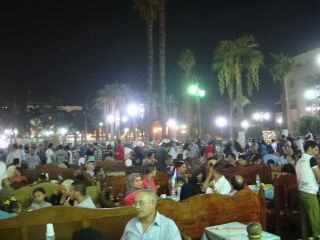 So as anyone who has ever visited Cairo knows, Cairo has a really bad stray cat problem. They are everywhere. To make matters worse, I feel like they are depressed and suicidal. They are the most unhappy(and starving) cats I have ever seen. This was a street in the market(note this was the most cats I've seen at one time here):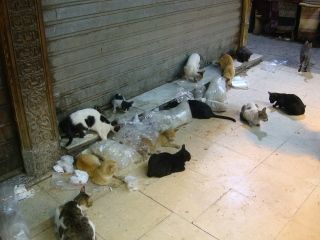 While at the market, we got to smoke sheesha (calm down you all its just hookah aka flavored tobacco in case you don't know what that is).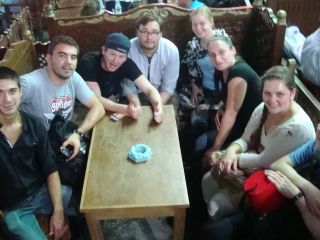 Overall it was an amazing trip. I can't wait to go without the crowd of tourists. This trip had been so rewarding already and I've only been here for a couple of days. I can't wait to see how much I learn and how Cairo changes me in the next two years!