Today was my first real day of visiting tourist places in Cairo. The school took all of the international students to visit Coptic Cairo and for a dinner on the Nile. Coptic Cairo is located in Old Cairo, and is an area that is know for its strong Christian influence. We visited the Hanging Church, the Mosque of Amr ibn al-As, and the Ben Ezra Synagogue. This area is famous because the Holy Family stayed at a church in the area.
Below is a picture of the Hanging Church in Coptic Cairo.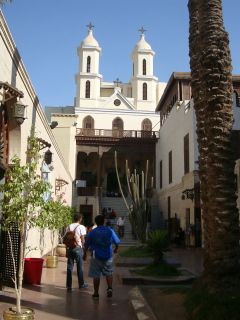 This was the only place all day that had air conditioning. Here is a picture of the inside: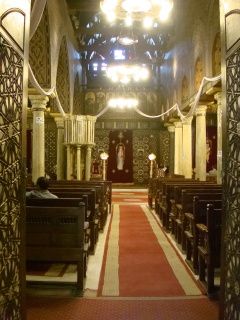 Below is a picture of the inside of the the Mosque of Amr ibn al-As. This mosque is supposed to be the first mosque ever built in Egypt.Men can go through the main door, but the women have to enter through a different door. Everyone had to take off their shoes, and the women had to cover themselves with these hideous green cloaks. It was horribly hot and uncomfortable, but it was well worth it. There were people just hanging around, laying on the carpet. One of the girls in the group and I want to come back (without the flock of foreigners), so we can just relax and hang out. It's super chill!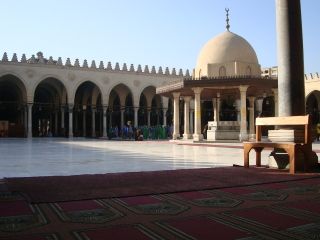 Here I am in the very flattering green cloak. They will allow you to come in without the cloak if you have on a long sleeve shirt and a scarf/hijab on your head. Next time, and there will be a next time, I will definitely wear a scarf on my head. It's literally so beautiful and ridiculously relaxing.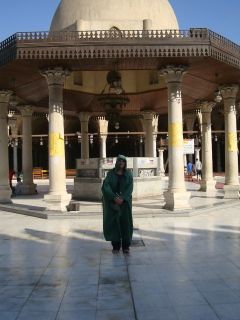 After the tour, the school set up a dinner on the Nile. It was definitely the kind of place that caters to Americans. The prices were crazy compared to what you can get on the streets or in local restaurants. There is absolutely no way any regular Egyptian off the street is coming to eat here.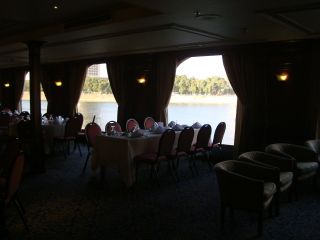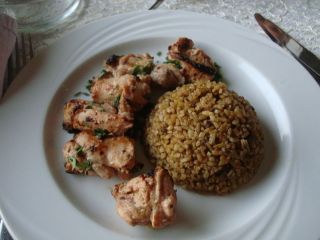 The food above is chicken with rice. The rice had some cinnamon in it. That's going to take some getting used to.