When I lived in Florida we had hurricane days. When I lived in Washington DC we had snow days. Here in Cairo, we have protest days. This is my first semester at the American University in Cairo as a graduate student and we've already had two days of classes cancelled this semester. I've said it before and I'll say it again: Egyptians love to protest.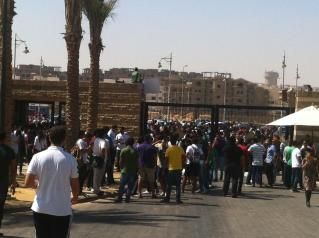 The protest is a result of a 7% tuition increase, which seems to happen every year. The first protest happened a couple days ago, when students locked the gates to campus. Classes were cancelled, people were stuck in the desert, and students blocked the gates with their cars. The protests are backed by the AUC's student union. They definitely have the right idea, but are totally wrong in their implementation. Don't block people from getting to their classes and if you're going to keep people in the desert give them water and bathrooms.
The second protest was yesterday. No classes and the gates were locked again. I'm not going to lie, I kind of like not having classes, but I'm still paying for the ones I miss. The school announced that the missed classes will be rescheduled. Some students on Facebook have been posting that the school will be meeting with the administration over tuition increases. I would love to get some extra cash credit to my student account. I'll keep you guys posted.